Home office and virtual meetings habe become our reality in the last few weeks. Experince shows that virtual meetings need more preparation and good leadership to be effective.

Due to current events we offer special support in the following areas:




Offering second opinion on innovative ideas and concepts in the role of a sparing partner




Developing specific documentation canvases for virtual calls




Team training in virtual collaboration




Setting up specific roles to improve efficiency in online meetings




Sharing best practices and facilitating conversations



Please, join us on our weekly SKMF Q&A Sessions on Wednesdays. More information check the SKMF website.
As a knowledge manager you want to translate the potential of knowledge management tools into tangible business results and increased organizational capacity.
You deal with the many recent offshoots of knowledge management. And they are many: agile methods, design thinking, social collaboration, scrum with sprints and standups, retrospectives, new work with or without squads, agile work, workhacks etc. You have to explain them to your management and introduce them into your organization. Ideally without too much confusion about what the mean and how do they exactly differ from the status-quo.
You organize knowledge hackathons to discover and close gaps in knowledge processes of your organization. As an embedded consultant and agility coach you assist and advise line managers on social collaboration, design thinking, and all other agile innovative approaches to bring more innovation into the organization.

Knowledge management has been AHT's core competence for the last 20 years. Our KM education services can lead you through the djungle of concepts, hype words and help you to bring clarity and simplicity into your work.
In November 2017 we have introduced the new 3 Sphere Model for Knowledge Management. It is equaly valid for Innovation Management, ITIL Knowledge Management, Design thinking and Agile Collaboration. This model is further developed as new techniques and tools appear. Latest additions are intrinsic learning and elements of beta codex.
The key learnings of the many AHT knowledge management projects have been summarized in a chapter by Pavel Kraus in the book «Wissensmanagement beflügelt» from AKA-Verlag.(in German). Together with Swiss Knowledge Management Forum and five other KM communities we have updated the D-A-CH Glossary of key terms for knowledge management.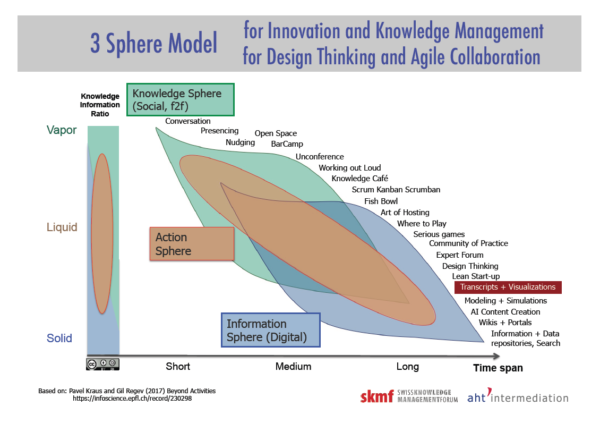 The model allows fast clarification of terms and identification of knowledge management issues.
Furthermore, it shows where KM related techniques bring the greatest benefits. This accelerates the understanding when defining outcomes of a knowledge management project.
Strategic view




Based on our «Context Tool» we develop concepts for «Knowledge Portals» creating a central place for targeted content, exchange and learning.




Assessments of needs and options for knowledge management strategy based on KM Success Logic




Networked organization - Communities of Practice




Innovative Intranet search, content curation and learning concepts




Guided reflexion sessions and sounding board support
Process view




Process visualization for quick identification of context information and access to relevant content




Knowledge management process integration into daily business




Knowledge transfer within matrix organizations




Simplification of processes and knowledge maps




ITIL v3 Knowledge Management processes and implementation strategy




Expansion of classical BPM with KM processes

Project view




Project start-up acceleration workshops




Team communication improvement workshops (knowledge and documentation)




Lessons learned workshops




Knowledge maps for mission critical areas, incl. Technology Roadmaps or IT Service Designs (ITIL Knowledge Management)




Knowledge hackathon as a special project to discover and close gaps in knowledge management

Collaboration view




Social collaboration including building communities of practice, guidelines for virtual work and facilitation



Engaging and motivating community members across multiple sites




Integrating of adjuvantive tasks into daily work to increase knowledge managment efficiency




Digital team learning and collaboration - based on docControll / Context Tool / 3 Sphere Model information architecture




Usability and taxonomy improvement




Sharing best practices and learnings accross organizations




Innovative approaches: Content curation, Scrum, Simulations, Game visualizations and others


KM and collaboration for Start-ups




Synchronization of collaboration and communication in dispersed teams




Clarification of the value proposition




Visualization of product and service ideas




Document management in a virtual environments




How to manage multi-projects




How to balance out face-to-face and virtual meetings




Efficient productivity across several sites


KM education and training




Immersion lectures on Knowledge Management




Basic training and introduction to KM




KM training with selected focus on ISO 2015 and ISO 30401 norms


Knowledge Management ITIL with focus on IT services




Former Swiss faculty member of KM institute Certified Knowledge Manager training. Topics: KM business case and knowledge retention and transfer




Discovery workshops and think tanks




Knowledge as risk factor




Advanced knowledge management trainings:
- Concepts and models
- Smart search and advanced search
- Design thinking and other KM tools
- Enhanced agile methodologies
- KM and project management (IPMA)
- 3 Sphere model methods and tools
The following text is an article published on Linkedin
Knowledge management starts with value
Discussion around knowledge management (KM) unfortunately often center about this or that tool. What is the best tool for knowledge sharing? What is the best knowledge management system? Should we implement design thinking? Which agile method is the best?
After being for more than 20 years in the KM arena, I have seen so many discussions, which all fail to address the main point. And the main point is: What is exactly the additional value we want to get out of our efforts? Or what value we want to to get out of improved and simplified business processes, agile methods, digital transformation, project management etc.?
It should all really start with identifying the additional value we expect from any type of knowledge management activities. What should a change deliver?
Here are few examples of goals from completed KM projects:
1. Collaborators can identify the right experts fast in order to receive specific mentoring
2. Projects start faster and at the same time save each project members dozens of working hours
3. A new business model based on digitalization is developed and accepted
4. Competitor intelligence work is carried out and shared easier than before. Nothing important is forgotten.
5. Unstructured office documents in disorganized shares or SharePoints have to be accessed by new employees efficiently and fast
These goals that stood are the beginning of a KM project lead to the following solutions:
1. Creation of a digital process collaboration portal in the Intranet enabling visual access to experts.
2. Special agile type workshop for a project start-up with 5 facilitation steps for the project team.
3. A series of workshops each with a special design together with a thorough capturing of knowledge during and after the workshop.
4. A unique «Mind Office Knowledge Database» supports triggering and interconnecting information inputs.
5. Advanced Search Tool combining following search methodologies: semantic, facetted, full text, taxonomy and special expressions.
The key point is to clearly separate the desired value and the need from the tool itself. The preoccupation with the tool hinders more than helps the critical thinking about the desired outcome. This is the key success factor for successful improvement initiatives. These and other success factors are the main focus of the roundtables of the Swiss Knowledge Management Forum.