The latest:
See also our Twitter stream from the 10th Conference on Professional Knowledge Management - March 2019

3 Sphere Model with techniques - Version January 2019

LinkedIn blog: Key to the right knowledge management mix

LinkedIn blog: Alternative look at the crash of 737 MAX 8

LinkedIn blog: Frozen Knowledge


LinkedIn blog: Bliss of Empty Applications

LinkedIn blog: Knowledge management starts with value


---
December 2018: Successful certification IPMA Certified Project Management Associate for Pavel Kraus



SKMF Roundtable in Basel together with FuckUp Nights Basel. December 5 at Basel Launchlabs


SAQ - Sektion Zentralschweiz: Wissen - Erfolgsfaktor im Unternehmen - und im Fokus von ISO 9001
Ein Event bei Siemens am Freitag 30. November mit Pavel Kraus


Presentation of the 3 Sphere Model at Knowledge Bar Camp in Munich - October 23 - 24, 2018
Modell and discussed topics download here - Updated Saturday October 26
Links to BarCamp sessions - one - two - three


SKMF presenting 3 Sphere Model at Social Collaboration Summit in Zurich - October 25, 2018
Video from the outcome of social collaboration methods session and slides discussed in sessions.
---
Geneva Knowledge Week - September 10 - 14, 2018 - Venue WTO

- Essentials and Advanced Courses in Knowledge, Innovation & Learning
- Social Collaboration in SMEs and global organisations

- WTO and Knowledge for Development Partnership K4DP Sessions
- Co-creation of innovative knowledge projects

K4D Partnership returns to Geneva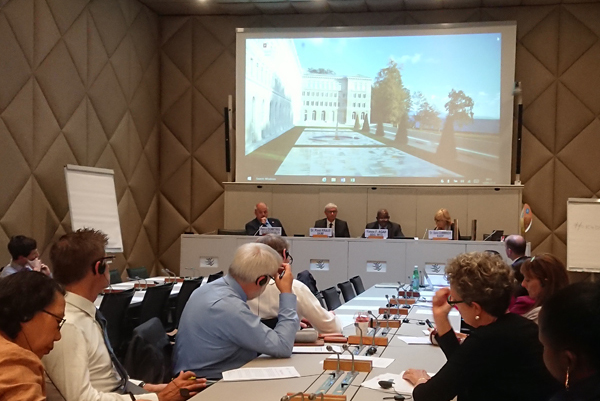 ---
Introducing new tool from the MindOffice family for improved knowledge collaboration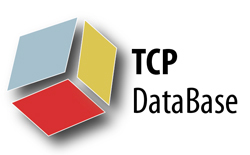 Specialists working on complex topics like competitor intelligence, technology scouting or multiple projects need efficient tools for dealing with their knowledge and information in real time.

AHT assists specialists to simplify their tasks:

- Documenting ideas and reflexions instantly
- Exchange of information with their colleagues in their context
- Easy access to multi-dimensional complex insights

The new «MindOffice» solution has been developed first for Technology, Competitor intelligence and Patent / IP topics and can be flexibly adapted to other areas.

It has been realized together with Alexandr Rada using agile development methodology and is a new addition to our «Mindoffice» family of tools.
---
Together with our network partners, we have completed the development of services based on new innovative software tools: It helps to cleanup and organize legacy documents from shared drives or SharePoint sites.


Making "one million documents" retrospectively ready for an audit and quickly accessible for subject matter experts. This challenging project lead to the development of a new Advanced SearchTool. This tool combines five different search approaches: faceted search, taxonomic search, special expression search, full text search, and semantic search.
Based on the Advanced SearchTool we offer a service where ever a large number of disorganized documents from shared drives has to be put into systematic order. Records managers can use this service to put legacy documents into order or achieve a controlled cleanup and deletion.

We help to improve resource management planning in mid size departments. A special Resource Management Tool is a stand alone application to manage up to 50 people in an larger number of projects.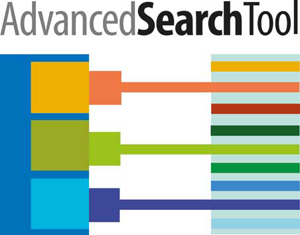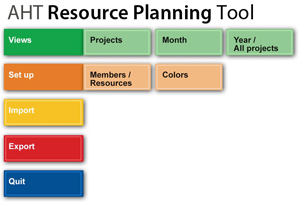 For more details contact Pavel Kraus.

---
The new 3 Sphere Model for Knowledge Management and any type of agile development like design thinking

The model allows fast clarification of terms and identification of knowledge management issues. Furthermore, it helps to pinpoint adequate KM related techniques and tools.

It puts them into the right perspective and shows where they bring the greatest benefits. This accelerates the definition of outcomes in a knowledge management project.

This model also explains the critical time dependence of knowledge and information with action. It shows how facilitation, agile methods, design thinking and collaboration software (SharePoint etc.) are connected. This model builds on KM projects of AHT and research work at EPFL.
It has been developed based on the publication by Dr. Pavel Kraus and Dr. Gil Regev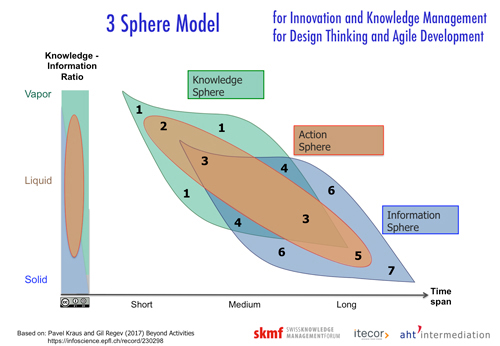 Currently we work on further development of the model. The model can be also applied for innovation management, design thinking and agile development. It has been published under the Creative Commons license.
3 Sphere Model with techniques - Version January 2019
3 Sphere Model - Version February 2018
3 Sphere Model Launch presentation at SKMF Roundtable EPFL Lausanne
The 3 Sphere model was empirically developed during various consulting projects concerning digital business models, blockchain and creative innovation.
---
Archive

Juli-August 2018 - Management und Qualität - SAQ Workshop - Mittwoch 4. April 2018 - Buchs, SG
Wissensmanagement und ISO Update

- Wie gehen wir mit Wissen als Ressource um?
- Wo steht meine Organisation mit WM?
- Was sind sinnvolle nächste Schritte?

Ziel des Workshops ist es den Teilnehmenden eine Orientierung im Thema zu geben und ihren helfen klare Pläne für ihre Organisationen zu definieren. Artikel download
---

SKMF Roundtable - October 10, 2017 - Bern
How to use Knowledge Management Tools successfully
New insights from Good Practices. Based on two innovation projects for clients which inspired a new way how to look at KM. More information at SKMF Website
---
PMA Kaminabend - 8. Juni 2017 - Zürich Sihlhof
Mit wertorientierten Prozessen zu mehr Erfolg
Geschäftsprozesse und Wert-Orientierung - Wie passen diese Begriffe zusammen? Auf welche Weise sind sie voneinander abhängig? Programm und Informationen
---

UN Knowledge for Development Conference - K4Dev, April 3+4, 2017 Geneva - Program download


How to measure the impact of knowledge management activities - Business Case for KM.

Panel discussion with Sukai Prom-Jackson, Ulrike Katterl, Leif Edvinsson and Pavel Kraus - Presentation download
---

PMA Forum - March 29, 2017 - Bern at GIBB


Internet of Things / Industrie 4.0: Prozesse werden intelligent - Wohin geht die Reise


- Flyer download


Life Science Forum 2016
Empowered patients through the help of internet is a key topic in knowledge management. Swiss Knowledge Management Forum is conducting a series of roundtables to this topic. Some results will be presented by Pavel Kraus at the Life Science Forum 2016 on June 20 in Basel: «eHealth Quo Vadis»? How soon can internet knowledge replace my physician?

Presentation for download
---
Knowledge Café facilitated by Pavel Kraus for the ZHAW New Business Oportunities Program on February 3, 2016. Flyer
---
Dank Wissen Zeit und Geld sparen - Mit gezieltem Wissensmanagement lassen sich Leerläufe und Zeitverluste vermeiden.
Wissensmanagement lohnt sich, wenn...
... Projektteams zu langsam vorankommen
... die Koordination von Prozessen zu komplex wird
... die Kommunikation zwischen Firmeneinheiten hapert, etc.

Ein Artikel von Carmen Epp in der Beilage Weiterbildung der 20 Minuten vom 21. Januar 2013.
Wie erklärt man Wissensmanagement mit wenigen Worten?
---
Vortrag Wissensmanagement in Schweizer Unternehmen: Situation und Potenziale von Pavel Kraus am Knowledge Management Forum der Universität St. Gallen zum Thema:
Von Semantic Enterprise Search über Competitive Intelligence bis zu Wissensmanagement
11. September 2012
---
Vortrag Tools für die integrierte Umsetzung von Wissensmanagement in Prozessen an der Veranstaltung der Prozessmanagment-Akademie und SKMF zum Thema:
Wissensmanagement und Prozessmanagement
6. September 2012
---
Artikel im Tagesanzeiger vom 6. Februar 2012 über Wissensmanagement: Wie olympisches Wissen den Weg von London nach Sotschi findet von Claudia Imfeld mit einem Interview mit Pavel Kraus, Präsident Swiss Knowledge Management Forum
---
SKMF roundtable with Pavel Kraus and Arash Golnam on «Success logic» for knowledge management projects
(EPFL Lausanne, June 21, starting at 5:30 P.M.)
---
Opening lecture by Alexander Jungmeister at University of Lucerne: Value management / Wertschöpfung, September 3, 2011 at new building of UniLU. at 11 A.M.
---
WM 2009 Konferenz - 25.-27.03.2009 in Solothurn
Professionelles Wissensmanagement - Erfahrungen und Visionen
Ein Business Case für Wissensmanagement – Erfolgsfaktoren auf dem Weg zu einer positiven Entscheidung für Wissensmanagement im Unternehmen. Ein Tutorial mit Pavel Kraus und Werner Schachner.
Die grosse Herausforderung in der Praxis ist es den Business Case für Wissensmanagement-Projekte zu definieren und bis zur positiven Entscheidung voranzutreiben.
Im Tutorial werden Beispiele aus WM-Umsetzungsprojekten vorgestellt und die Erfolgsfaktoren auf dem Weg zu einer positiven Entscheidung für Wissensmanagement im Unternehmen diskutiert.
---
Schweizer Kader Organisation - Trendshop - Wissenstransfer bei Personalwechsel
Datum: Mittwoch 04.03.2009 - Zeit: 18:00 - 21:00 h
Ein Mitarbeiter verlässt einen Betrieb und mit ihm auch sein Wissen und seine Erfahrungen. Sein Nachfolger kann nicht auf das Wissen des scheidenden Mitarbeitenden zurückgreifen. In diesem SKO-TrendShop lernen Sie Methoden kennen und anwenden, die der Wissensaufnahme, Wissensbewahrung und dem Wissenstransfer bei Personalwechseln dienen.
Seminar mit Pavel Kraus, Congress Hotel Olten
---
Wissensmanagement in der Industrie - Electrosuisse Fachtagung - Dienstag, 20. Januar 2009
Vortrag: Erfahrungen der letzten 10 Jahre - Lessons learnt - Download
Der Wissensmanagement-Hype und die Enttäuschungen in den 90-ern. Welche Versprechungen wurden gehalten? Was haben wir gelernt? Wie sieht heutiges Wissensmanagement aus? Was kostet fehlendes Wissensmanagement und wo ist es am kostspieligsten? Beispiele erfolgreicher Integration in die Praxis werden gezeigt.
- Kosten vom Wissensmanagement
- Umsetzungen und Erfahrungen
- Beispiele aus der Praxis

Hotel Arte, Olten - Download Programm Wissensmanagement in der Industrie
---
SKMF Roundtable, Universität Basel, 10. Dezember 2008
Thema: ITIL und Knowledge Management. Implikationen der Integration von Knowledge Management in der ITIL Version 3
Download ITIL und Knowledge management Präsentation und ITIL und Knowledge Management Artikel.
---
Mai 2008 Ausgabe von HR Today ist dem Thema Wissensmanagement gewidmet. Ein Artikel über den Werdegang von Wissensmanagern im Unternehmen enthält Interviewinputs von Pavel Kraus.
Download Artikel

---
Eine verkürzte Fassung "Wissensmanagement - mehr als ein Hobby" - Der Werdegang des Wissensmanagers erschien im Stellefant.ch der Basler Zeitung am 18. Juli 2008
Download Artikel
---

Wissensmanagement-Netzwerk-Gruppe Savoir vom Bund und Swiss Knowledge Management Forum haben ein Magazin über das letzte Herbstevent publiziert. Dies enthält Beispiele für erfolgreiche Wissenstransfer- und Wissens-Sicherung-Projekte aus verschiedenen Industrien. Unter anderem auch ein Business Case für Wissens-Sicherung bei Roche Diagnostics durchgeführt von Pavel Kraus.
Download Magazin
---
Poster von Jean-Pierre Bolliger, Roche Diagnostics und Pavel Kraus
"Wissenstransfer durch systematisches Debriefing und Briefing im Bereich der medizinischen Diagnostik"

Herbstevent Swiss Knowledge Management Forum, Donnerstag, 20 September 2007
Ort: Novotel Bern

---
Vortrag von Pavel Kraus "Schlüsselfaktor Wissen bei der strategischen Projektsteuerung"
Keywords: Wissen, Faktor, Projekt, Strategie, Projektsteuerung, Wissensmanagement.

Frühjahrstagung SPM - Projektbewusste Unternehmensführung, Donnerstag, 8 März 2007
Veranstalter: Swiss Project Management Association

Ort: Technopark Zürich

---
Seminar zum Thema "Wissensmanagement für BeraterInnen und TrainerInnen"
Keywords: Wissen, Management, Beratung, Training.

Freitag, 9. Februar 2007, 9.00 Uhr - 17.00 Uhr

Ort: Olten
---
Vortrag von Pavel Kraus "Wissen ist Macht"
Keywords: Wissen, Macht, Quality.

Donnerstag, 23. Februar 2006, 16:00 Uhr

Veranstalter: Sektion Swiss Association for Quality - Aargau / Solothurn

Ort: Ringier Print Zofingen AG, Zofingen
---
Vortrag von Pavel Kraus "Wissensmanagement ohne Computer - verbesserte Team-Kommunikation durch intelligente Organisation"
Keywords: Wissen, Management, Computer, Team, Kommunikation, Intelligenz, Organisation.

HRnetworx Treffen

8. Dezember 2005
17.30 - 20.00 Uhr
Bern
---
Vortrag von Alexander Jungmeister "Strategisches HR-Controlling"
Keywords: Strategie, Humen Resources, Controlling.

HRnetworx Treffen

1. November 2005
17.30 - 20.00 Uhr
Bern
---
Vortrag von Pavel Kraus "Methoden der Innovation"
Keywords: Methoden, Innovation.

ROMCOM Symposium

15. Oktober 2005

Oradea, Rumänien
---
Vortrag von Alexander Jungmeister "Ganzheitliches Corporate Performance Management in Konzeption und Umsetzung"
Keywords: Corporate Performance, Management, Konzept, Umsetzung.

Business Intelligence-Symposium
Managing the Intelligent Enterprise
Veranstalter: The Knowledge Place
22. September 2005
Kongresshotel Mövenpick Regensdorf/Zürich
---
Vortrag von Pavel Kraus: Grenzen und Möglichkeiten für Wissensmanagement
Conference Dare to Share - Learning across Borders

Veranstalter: DEZA
2. April 2004

Download: Slides Pavel Kraus - Grenzen und Möglichkeiten für Wissensmanagement
---
Artikel zum Thema Return on Investment
Kosten senken durch Wissensmanagement
Keywords: ROI, Return on Investement, Wissen, Wissensmanagement, Kosten
Zeitschrift Wissensmanagement, Heft 4 Mai / Juni 2003
---
Vortrag von Alexander Jungmeister "Ganzheitliches BPM in Konzeption und Umsetzung
Keywords: BPM, Konzept, Umsetzung.

Symposium Business Performance Management

Veranstalter: The Knowledge Place
24. September 2003

Technopark Zürich
---
Vortrag von Pavel Kraus "Kosten sparen mit Wissensmanagement"
Keywords: Kosten, Wissen, Wissensmanagement.

Symposium Aktivposten Wissenskapital
Innovative Unternehmensentwicklung durch Wissensmanagement
Veranstalter: The Knowledge Place
18. Juni 2003
Gottlieb Duttweiler Institut, Rüschlikon
---
Artikel "Griff nach dem Grips" - Wissensmanagement wird von den Unternehmen entdeckt
Keywords: Siemens, Dasa, Roche Diagnostics, Skandia, Knowledge Management
Wolfgang Berres, Franz Tessun, Leif Edvinsson, Pavel Kraus,

BIZZ Capital, April 1999
---